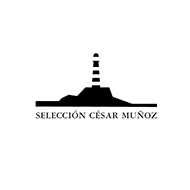 Selección César Muñoz
César Muñoz Selection is the most personal project of César Muñoz, one of the great values of Spanish oenology.
With his past in Vega Sicilia, under his baton some of the most amazing wines from Spain's emerging areas have been made such as Cyan, Leda Viñas Viejas or César Príncipe among others. He is currently the technical director of Bodegas Chivite, but still has time to devote himself to his personal project. César has searched for and found unique vineyards with unbeatable characteristics within the framework of Ribera del Duero Appellation. Such vineyards are located at an altitude of between 900 and 1000 metres, which is difficult to find within the area and many of which are centuries old
With a very respectful job, both in the vineyard and in the winery, he achieves really personal, complex and balanced wines. Only 3 wines, very few bottles, a hidden treasure in Ribera del Duero.