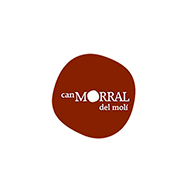 Can Morral Del Molí
Wine is made from the vineyard, without additives and with minimal intervention.
The Can Morral del Molí winery is located on the estate that holds the same name, near Ullastrell, between the region of Baix Llobregat and Vallès Occidental.
Approximately since the 15th century, the farmhouse has been inhabited by the Morral family and has been passing down from generation to generation, a generation dedicated to the crops of the vineyard and olive trees. Xavier, María and Mariona work with the desire to preserve the agricultural landscape and traditional crops. The crop is completely organic and has a growing tendency to biodynamics.
The vineyards, surrounded by forest, are of the autochthonous varieties Xarel·lo, Sumoll and Macabeu -with vines between 60 and 80 years old and the foreign Tempranillo and Chardonnay varieties. Throughout the estate, we can find Becaruda olive trees scattered around, centenary olive trees that are native to the area.